Back To Our Services
We face numerous garage door replacement & installation requests at our garage door company in Del Mar. It is only natural that garage doors will suffer a certain degree of wear and tear over the years. Over time you can keep repainting them and having minor repairs performed but eventually that moment arrives when you realize as a garage owner that it is time to have that garage door replaced and another one installed. Our garage door service offers a variety of great garage doors for our customer's convenience. We gained our reputation of being the best garage door contractor in Del Mar because we strive to offer garage door choices they can count on.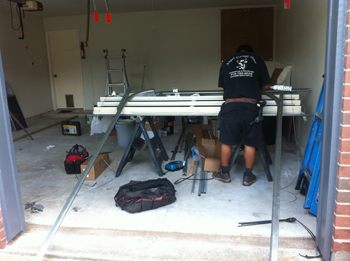 Our company is at your service every day! Covering the needs of customers, keeping updated with everything new in the industry and training accordingly is our duty to customers. When working with our service provider, the competence and knowledge of technicians is ensured. With specialty in residential systems, we adeptly install and maintain, repair and replace all parts and openers. From repairs related to the trolley, gears, brackets, cables or springs to the installation of a new overhead door and the replacement of the existing one, all services fully meet the expectations of valued customers our company offers routine inspections and service, but is also here to take care of urgent problems with same day repairs.
At our garage door company in Del Mar our experienced technicians are always prepared to assist the residents with all of their garage door needs. The bottom line is the residents of Del Mar want their garage doors to look good. They want a garage door that makes a statement; a garage door that looks great when they or their families and friends pull up to it. For this reason, our garage door service in Del Mar keeps a variety of garage doors in stock at all times. We want our customers to find the style they want from a brand name they can trust and at a price they will be comfortable with. All of her products are produced by brand names like Sears, Marantec, Chamberlain, Genie, Craftsman, and Liftmaster.
Obviously wood garage doors are quite common.
At our garage door company in Del Mar we carry a variety of wood garage doors for our customers to choose from. They come in different sizes and styles to match most anyone's personality. If the customer already has a wood door and wants to try different our garage door contractor provides choices. There are great looking aluminum garage doors to choose from as well. There are some great steel garage doors as well. They are heavier and built for the long haul. However, many people swear by the Craftsman garage doors. Craftsman has been a respected name for decades and became associated with Sears over 83 years ago.
There is also a variety of glass garage doors to choose from. All of these doors come in numerous styles, sizes and prices. Our technicians from our garage door service in Del Mar are very experienced in garage door replacement and installation services. They can also replace and install those garage door windows that seem to take quite a bit of extra wear and tear in some families. Sometimes a baseball finds its way through the window or one of the family member's crashes into the door after a great layup. These accidents are going to happen. Our garage door contractor in Del Mar is there to handle whatever garage door issues arise. Visit or website. If you need to talk to us quickly call us at 619-210-0874.
Back To Our Services