Back To Our Services
A good garage door company will not limit itself to one specialty. It is much better to be an expert on a variety of garage door services. Our garage door contractor in Del Mar offers that type of garage door service. Our staff is well trained on everything from garage door openers to garage door springs. Garage door springs are a very common garage door repair that has to be made and it is that every technician must be trained to work with. Adjusting a spring to exactly the tension that is necessary takes plenty of training. Our garage door company in Del Mar makes sure all of our technicians can deal with any garage door spring issue that should arise.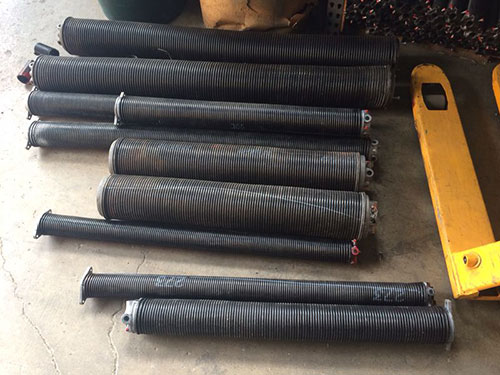 With our acclaimed services, we manage to make a difference in the way your overhead door moves, the level of home security, safety of family, and ultimately to your entire life. By offering professional garage door maintenance and being there to fix all damaged parts in timely fashion, technicians allow customers to enjoy a functional door. From cable repair to broken spring replacement and opener maintenance, our ability to offer full residential services in the most efficient way is guaranteed. Offering services without being thorough is like being a teacher without anything important to say. Steadfast professionals have a full understanding of client needs and cover them properly. Our company is here to offer preventive and emergency services and help people enjoy a safe door.
One of the biggest problems our garage door contractor in Del Mar faces is broken spring repair and replacement. Let us give you the run down on garage doors and garage door springs. All garage doors use some type of garage door spring. They come in two basic types and a variety of sizes. These springs are tension wound and care must be taken when replacing, repairing or installing them. This is not a DIY project for the average garage owner. This task should be accomplished by a professional who has been well trained on the issue like our technicians at our garage door service in Del Mar.
These garage door springs wind up enduring a lot of wear and tear. After all, they are pulling quite a bit of weight. The first garage door spring that is commonly used in the garage door industry is the extension spring. This spring is typically installed on each side of the door and is normally used for doors that are lighter in nature. You would not use extension springs on a very heavy steel garage door for example. This type of spring is better designed for lighter wood garage doors or possible a lightweight aluminum garage door. The spring is still a very durable product but it is designed for specific situations.
The torsion spring on the other hand is designed for those heavier steel garage doors. They can even be used on heavier wood garage doors. The torsion spring is normally installed on both sides of the center portion of the garage door. At our garage door company in Del Mar we carry a great choice of extension and torsion springs to meet our customer's expectations.
Back To Our Services